Sale!
Quilted Photo Deluxe 3.0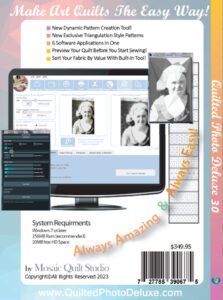 Have you been waiting for even more advanced features? well here it is! Quilted Photo Deluxe 3.0 has 16 new pixel shapes, makes paper piecing patterns, you can automatically design the amazing contoured quilt patterns and make the new Crystillized Patterns! This exclusive technique is new  modern and exciting!! Quilted Photo Deluxe 3.0 is the best art quilt  software in the world. It is easy to use and reliable.
Mac and PC, USB Drive and Download
Includes options for gray scale or realistic color palettes. You can also print a shopping design sheet that tells you how much of each fabric you will need and finished quilt dimensions and more. The most time saving feature is the full size printing feature! You can print your patterns with your numbers in any size squares! Just tape the patterns pages together, and you will be ready to start!
The Software was developed to handle realistic color perfectly.
Benefits & Features of Software

Easily adjust the Contrast or Brightness of your photo! Your photos don't have to be perfect, just fix it with QPD 3.0!
You get more design options… Grayscale, Realistic, and even use the built in fabric collections!
You have full control of the number of squares and the number of fabrics!
You get complete control of the finished dimensions of the quilt. So now you can easily design an art quilt that is the perfect size to fit your wall!
You can see a preview of the pattern before you print it out! The patterns now have large numbers!!!
The palette has large color swatches! Print it out to match your fabrics!
You can also import your own fabrics into the preview and see your quilt before you cut even one fabric!!
Quilted Photo Deluxe software can be used to make the"Chrystillized" for new upcoming book  and "Contoured Pixel" patterns described in the book "How To Sew Art" as well as patterns for all of the techniques in all of the Quilted Photography books . Get this software and you won't need any of the others on this site because it contains all of the functions of all Quilted Photo software programs. All non-promo/non-discounted orders purchased directly from this site will also get a bonus book "How To Sew Art" for free.
$349.95 + Shipping
| | |
| --- | --- |
| Format | Physical CD sent by mail, MAC and PC |