Thank you for your order!
 If you ordered Software , Books or Notions please allow
4-12 days to receive your products in the mail! You will find
your sales receipt in your email.
---
How to Sew Art LIVE Class for only $88
INCLUDES- 3 hour live class, fabric, supplies and custom pattern!
Please allow me to teach you "How To Sew Art" personally…
If you want to reduce your learning curve and effortlessly
transform your precious photos into amazing art, then watch the video below for the details.
Here's what's included in the class:
Custom Kit: with fabric, supplies and a custom pattern. All you'll need to do is choose a photo… and meet me at the class!
LIVE class on any computer, phone or tablet: This is good for you because You will not have to travel across the country nor across town. learn in the comfort of your own home.
LIVE Interaction with other students: This is important because you also learn from the questions and projects of other students.
Ask All Your Questions: This is big because you will never wonder if you are doing it right. All your questions will be answered.
I'll share my success formula: This a good thing because you'll never have to guess if your quilts will look good. You will know if you follow my formula
There is a catch on securing your place…. you must choose now to get this price. When time runs out the price will go up!
I know that puts some pressure on you, so if you need more time to decide, I'm going to advise you to bookmark this page…..
Because of the limited nature of this offer, I don't want to take up any more of your time.
Click "SIGNUP" Button Below to Register Now!
HowToSewArt the easy way: Amazing Strip Technique Class:
only $88 Kit Included normally $119 for class and kit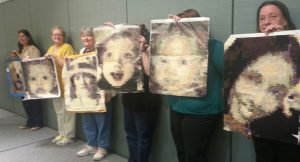 Learn to transform ordinary fabric strips into unbelievably beautiful photographic quilts! The quilts look intricate and difficult to make, but it's easy…even if you are just beginning to quilt. Each quilted photo takes only a few hours to make and you'll learn the simple techniques that will guarantee your success. Your friends will be amazed when they realize your quilt is really a photograph! Class includes a custom pattern made from your photo. (3 hours)
April 3rd, 2022 (9am – 12pm PST)